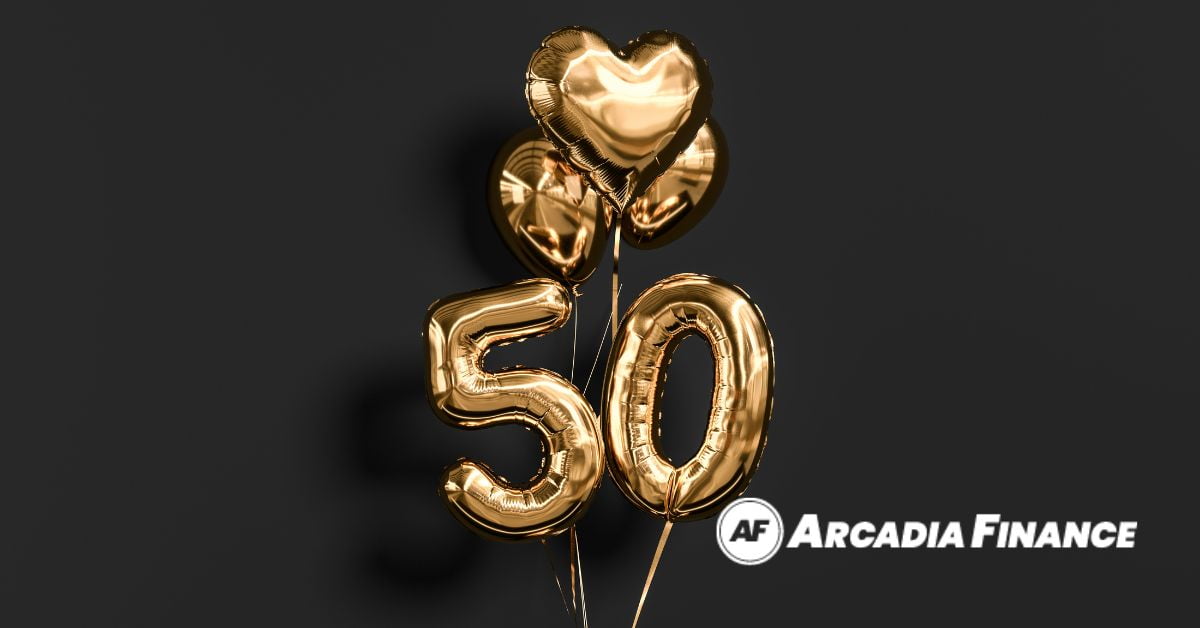 Welcome to a realm where love knows no bounds, and a half-century of togetherness is celebrated in a golden hue. A Golden Wedding Anniversary denotes the celebration of fifty years of marital unity, a monumental milestone that calls for extraordinary commemoration. The beauty of this event lies not merely in the longevity of the partnership, but the fortitude, patience, and love required to nurture such an enduring relationship.
Key Takeaways
Understanding the Golden Anniversary: A golden wedding anniversary is a significant milestone marking fifty years of marriage. The 'golden' moniker reflects the preciousness, rarity, and resilience of such a long-lasting love.
Personalised Gifts: Personalised gifts, from custom-made jewellery to commemorative plates and custom star maps, add a touch of exclusivity to the celebrations.
Traditional Gifts: Traditional golden anniversary gifts often incorporate the theme of 'gold', representing the enduring nature of the couple's relationship. Examples include gold jewellery, gold-framed photographs, or gold-plated homeware.
Experience Gifts: Memorable experiences, like a luxurious South African getaway, a dining experience at a top restaurant, or a rejuvenating spa retreat, make unforgettable golden anniversary gifts.
Personalised Gifts
Custom-Made Jewellery
Nothing speaks love like a piece of custom-made jewellery, especially one that commemorates 50 years of togetherness. Bespoke jewellery allows you the freedom to express your sentiments in a piece that's as unique as the couple you're celebrating. From intricate necklaces to elegant bracelets, and from sparkling rings to timeless cufflinks, the options are as endless as your imagination.
South Africa, home to some of the world's most precious gems and metals, offers a vast array of skilled local jewellers. Take, for instance, Shimansky, renowned for its unique designs and exceptional craftsmanship. Or consider Jenna Clifford, known for her artistic flair in creating masterpieces that reflect personal stories. Commissioning a custom piece from these or other local artisans not only provides a personal touch but supports South African businesses.
Engraved Crystal/Glassware
A toast to 50 golden years certainly demands more than ordinary glassware. Engraved crystal or glassware adds an element of sophistication and personal touch to any celebration. Consider an elegant wine decanter with the couple's initials or a commemorative phrase etched onto the surface, or perhaps a set of crystal champagne flutes with the wedding date subtly carved into the glass.
Several South African establishments, like Carrol Boyes and Ngwenya Glass, offer a wide array of exquisite glassware that can be custom-engraved. These shops also house master craftsmen who use their skills to transform an everyday object into a personalised memento that can be cherished for years to come.
Custom Golden Anniversary Artwork
Art speaks a universal language of love and emotion. A piece of custom golden anniversary artwork could serve as a perfect testament to the couple's journey. This could be a painting, a drawing, or even a piece of digital art that encapsulates the essence of their 50-year-long journey.
South Africa is teeming with talented artists who could render your vision into reality. Platforms like Art.co.za and StateoftheART showcase local artists who can be commissioned to create such customised masterpieces. Art is a timeless gift, and a bespoke piece celebrating a golden wedding anniversary will no doubt find a special place in the couple's heart and home.
Traditional Gifts
Gold-Themed Gifts
The golden anniversary naturally lends itself to gold-themed gifts. Gold symbolises the prosperity, wisdom, and strength that are necessary to sustain a marriage for half a century. A gold-themed gift needn't be solid gold – you can consider gold-plated items or pieces where gold accents are a prominent feature.
South Africa, with its rich history of gold mining, offers an abundant selection of gold-themed gifts. From beautifully crafted Carrol Boyes gold-accented tableware to an elegant gold-plated pen from Parker, there's a myriad of luxurious options available.
Vintage Wine or Spirits
To the couples who've enjoyed their fair share of toasts over the years, consider gifting them a bottle of vintage wine or spirits. A well-aged bottle of South African Pinotage or a smooth single malt could elevate their golden anniversary celebration to new heights. For an added touch, select a vintage from the couple's wedding year, if available.
South Africa's vineyards, particularly those in the Cape Winelands, are internationally acclaimed for their exquisite wines. Whether it's a vibrant Kanonkop Cabernet Sauvignon or a deep, velvety Rust en Vrede Estate wine, your gift will serve as an indulgent toast to the couple's enduring love.
Classic Photo Album or Digital Photo Frame
In the age of digital media, a classic photo album may sound archaic, but the charm it holds is timeless. Assembling a collection of cherished moments over the decades can stir up fond memories and forgotten stories. Alternatively, a digital photo frame loaded with memorable snapshots offers a modern twist to the traditional photo album.
Several South African stores, such as Typo and Orms, offer beautiful photo albums and digital frames. Adding a personalised touch, like the couple's names or their wedding date, can transform these into sentimental keepsakes that transcend time and trends.
Experience Gifts
Luxurious South African Getaways
A celebration of fifty years of love and togetherness undoubtedly calls for something special. Why not gift the golden couple an unforgettable experience in the form of a luxurious South African getaway? With its diverse landscapes and rich cultural heritage, South Africa offers a plethora of options.
The picturesque Cape Winelands, with their sprawling vineyards and majestic mountain vistas, are an idyllic retreat for wine lovers. Notable estates like La Residence or Delaire Graff provide an enchanting blend of luxury and nature that's simply perfect for a romantic getaway.
Alternatively, the couple might enjoy a safari trip into the heart of the South African wilderness. Lodges like Londolozi or Singita in the Kruger National Park offer thrilling wildlife experiences wrapped in unrivaled luxury.
Dining Experiences in South Africa's Top Restaurants
If the couple in question appreciates fine dining, then a gourmet experience in one of South Africa's top restaurants would make an unforgettable gift. From award-winning tasting menus to lavish buffet spreads, there is a wide variety of dining options to suit every palate.
Cape Town's Test Kitchen, lauded for its innovative dishes, or Johannesburg's Cube Tasting Kitchen, celebrated for its unique dining experience, could serve as the backdrop to a culinary journey the couple won't soon forget. Booking a reservation on their behalf and taking care of the bill can make their golden anniversary even more memorable.
Spa Retreats
A spa retreat offers a blissful escape from the hustle and bustle of daily life, making it an excellent golden anniversary gift. Imagine the couple relaxing and rejuvenating, surrounded by tranquillity and indulging in therapeutic treatments.
South Africa is home to a multitude of spas that cater to a variety of preferences. The Twelve Apostles Hotel and Spa in Cape Town offers breath-taking ocean views coupled with pampering treatments. Similarly, the Karkloof Safari Spa in KwaZulu-Natal allows guests to enjoy soothing therapies amidst the natural beauty of a private wildlife reserve.
» More info: Wedding cash gifts have never been this original!
Charitable Gifts
Donations to South African Charities
For the couple who values philanthropy and giving back to the community, consider donating to a South African charity in their name. This thoughtful gift not only honours the couple's golden anniversary but also contributes to a noble cause.
Charities such as Afrika Tikkun, which supports children and young adults in underprivileged communities, or The Smile Foundation, which provides surgical procedures and treatments for children with facial conditions, are just a few of the commendable organisations in South Africa that would appreciate your support.
Sponsorship of a South African Child or Family
Another meaningful gift for a philanthropic couple could be the sponsorship of a South African child or family. This long-lasting gift can help change lives and provide opportunities to those less fortunate.
Organisations such as SOS Children's Villages South Africa or Save the Children South Africa offer sponsorship programs. Your contribution, made in the couple's name, can provide essentials like food, education, and healthcare to those in need. This compassionate gift truly honours the love and unity that a golden wedding anniversary signifies.
DIY Gifts
Home-Cooked Meal or Baked Goods
Nothing quite compares to the love and warmth poured into a home-cooked meal or baked goods. For a golden wedding anniversary, consider preparing a feast featuring the couple's favourite dishes or baking a golden-themed dessert. This thoughtful gesture is sure to tug at their heartstrings and create a memorable anniversary celebration.
South Africa's diverse culinary landscape offers ample inspiration. From a hearty potjiekos stew to a sweet and aromatic malva pudding, your gift can be a delicious tribute to the couple's journey together.
DIY Memory Box
A DIY memory box is a heartfelt gift that holds more than objects; it encapsulates emotions, moments, and memories. Fill a beautifully decorated box with mementos from the couple's life together: photographs, tickets from concerts or movies they attended, love notes, or any other objects of sentimental value.
This precious box can be revisited and added to over the years, becoming an ever-evolving testament to the couple's enduring love story. It's a labour of love that shows how much you value and respect their half a century of unity.
Handcrafted Golden Anniversary Scrapbook
A handcrafted golden anniversary scrapbook is another DIY gift idea that honours a lifetime of shared memories. This can include photographs, handwritten notes, souvenirs, and any keepsakes that symbolise the couple's journey over the past 50 years.
Remember to add personal touches and thoughtful details throughout the scrapbook. For instance, each decade could be a chapter, with key events and memorable moments highlighted. This is a gift that the couple can cherish and perhaps even pass down to younger generations as a testament to their love story.
Sustainable Gifts
Indigenous South African Plant
Anindigenous South African plantcan serve as a wonderful golden wedding anniversary gift. It symbolises the couple's love, which, like the plant, has grown and flourished over the years. Choose a plant native to South Africa, such as the vibrant Bird of Paradise or the iconic Protea, both of which are hardy and beautiful.
Ensure the plant comes from a nursery that supports sustainable practices. This way, your gift not only honours the couple but also contributes to the preservation of South Africa's rich biodiversity.
Eco-Friendly South African Products
For the environmentally conscious couple, consider gifting them eco-friendly South African products. From sustainable homeware to organic skincare products, the choices are both thoughtful and wide-ranging.
Consider brands like The Joinery, which offers beautiful homeware made from recycled materials, or Oh-Lief, known for its organic and cruelty-free skincare range. Gifts like these show your respect for the couple's values while also supporting local businesses that prioritise sustainability.
Sustainable Wine or Spirits
In keeping with the theme of sustainable gifts, a bottle of sustainable wine or spirits could be the perfect toast to 50 years of marriage. More and more South African vineyards and distilleries are adopting sustainable practices, making this a thoughtful and eco-friendly choice.
Wineries like Waterkloof in Stellenbosch or Hamilton Russell Vineyards in Hermanus are well-known for their commitment to sustainable wine production. These bottles encapsulate the essence of South African terroir, making them an excellent choice for a golden anniversary gift.
Conclusion
From personalised keepsakes to traditional treasures, and from experiential delights to DIY surprises, there's something to cater to every couple's taste. What truly matters, however, isn't the price tag or grandeur of the gift, but the thought, care, and love that it represents.
Frequently Asked Questions
What is the significance of a golden wedding anniversary?
A golden wedding anniversary is a remarkable milestone that marks fifty years of marriage. The term 'golden' is used because of its connotation with value, rarity, and longevity. It is a celebration of the enduring commitment, shared experiences, and deep love that a couple has nurtured over five decades together. In many cultures, including South Africa, it is a highly revered occasion, often celebrated with friends, family, and, of course, meaningful gifts.
What traditional gifts are suitable for a golden wedding anniversary?
Traditional gifts for a golden wedding anniversary typically incorporate the theme of 'gold', symbolising the precious and enduring nature of the couple's relationship. Examples of traditional gifts include gold jewellery, like a pendant or bracelet, a gold-framed photograph of the couple, or even gold-plated homeware. Another customary gift is a golden rose, a real rose preserved in gold, symbolising everlasting love.
What personalised gift ideas can you suggest for a golden wedding anniversary?
Personalised gifts add a unique touch to the golden anniversary celebrations. You could consider a personalised golden anniversary clock or a commemorative plate that includes the couple's names and wedding date. Custom-made jewellery, featuring the couple's initials or a significant date, is another heart-warming option. For something truly special, consider a custom star map, illustrating the night sky on the couple's wedding date, fifty years ago.
What are some South African-specific gifts for a golden wedding anniversary?
Celebrating a golden wedding anniversary in South Africa opens up a wealth of unique gift opportunities. Consider a luxurious getaway to a South African vineyard or wildlife reserve, or a dining experience in one of the country's top restaurants. South African art, indigenous plants, or locally made crafts and products are other distinctive gifts. Lastly, in the spirit of Ubuntu, a charitable gift in the couple's name to a South African charity can be deeply meaningful.
What are some eco-friendly or sustainable gift ideas for a golden wedding anniversary?
For the environmentally conscious couple, sustainable gifts are a thoughtful choice. An indigenous South African plant represents growth and longevity while contributing to biodiversity. Eco-friendly South African products, such as sustainable homeware or organic skincare products, align with the couple's values. Another idea is a bottle of sustainable wine or spirits from a South African vineyard that follows environmentally friendly practices.
Your email address seems invalid. Write the email again or use some other email address.
*Representative example: Estimated repayments of a loan of R30,000 over 36 months at a maximum interest rate including fees of 27,5% APR would be R1,232.82 per month. Arcadia Finance is an online loan broker and not a lender. Our service is free, and we work with NCR licensed lenders in South Africa. Interest rates charged by lenders can start as low as 20% APR, including an initiation and service fee determined by the lender. The interest rate offered depends on the applicants' credit score and other factors at the lender's discretion.

Loan amount R100 - R250,000. Repayment terms can range from 3 - 72 months. Minimum APR is 5% and maximum APR is 60%.